Britai sako: "Jei gimei Didžiojoje Britanijoje – gyvenimo loterijoje laimėjai pirmą vietą" ("If you're born in Great Britain you've won first prize in the lottery of life"). Ir neveltui. Įstabi architektūra, žmogaus veik nepaliesta gamta bei paveiksliukų dailumo miesteliai – štai kodėl Britaniją įsimyli tiek vietiniai, tiek atvykėliai. Bet tai – toli gražu ne viskas! Jūsų dėmesiui – smagios priežastys, kodėl taip vilioja gyvenimas Britanijoje.
1. Čia pat gyvena Karališka šeima. Iš įvairių pasaulio kampelių aidi susižavėjimo atodūsiai: kokia daili Kate suknelė, koks apveidus jos sūnelis Džordžas, o jau karalienės Elžbietos elegancija – nuo skrybėlės iki pirštų galiukų! O jūs gyvenate sau kaimynystėje (na, beveik kaimynystėje) su vadinamąja "The Royal Family". Tegul visi pavydi.
2. Pubs. Net ir tie, kurie dar "neperkando" anglų kalbos, žino, ką reiškia šis žodis ir kokį smagumą jis žada. Linksmybių vietos vardas – "Pub" – kilo nuo žodžio "Public house", reiškiančio viešuosius namus. Ne, ne viešnamį, tad mergaičių su prisegamomis kojinėmis (ir tik jomis) čia nerasite. Pub'as – tai ideali vieta paūžti su draugais tiek savaitgaliais, tiek darbo dienomis.  Tik neįsisukite į alaus plempimo ratą, kuris tęsiasi nuo pirmadienio iki pirmadienio. Nebent taip norite praleisti savo atostogas.
3. Medaus spalvos namukai. Visą Britaniją puošia ramus ir vaizdingas kaimelių kraštovaizdis. Nedideli namukai, jaukios grįstos gatvelės ir senovinės bažnyčios sukuria įspūdį, jog nukeliavai laiku atgal. O pačiame dailiausiame Britanijos kaimelyje Bibury verta apsilankyti kiekvienam britui ar naujakuriui. Ypač tada, kai pritrūksta tylos ir tingaus poilsio, pvz., po ilgų linksmybių pub'e.
4. Britiškas humoras. Pakelkite rankas, kas nematėte "Pono Byno"? O "karalienės Elžbietos" šuolio su parašiutu per Londono olimpinių žaidynių atidarymą? Jei praleidote šiuos "perliukus", jau turite ką veikti nūdienos vakarą. Britai moka pasijuokti patys iš savęs ir tai labai sveika. Tokiu budu, nutikus nerimtai bėdai (sudaužius puodelį, pametus mylimą papuošalą ir pan.), nepuolama į ašaras. Su laiku to išmoksta ir naujakuriai.
5. Jokių neplanuotų gandrų. Britanijoje kontracepcija yra 100% free. Stengiamasi, jog tiek šalies piliečiai, tiek nauji gyventojai į pasaulį paleistų suplanuotus vaikučius. Tai ypač aktualu naujakuriams, kurie pradžioje ir taip turi daug išlaidų. Iki tol, kol tvirtai įsikuri šalyje, verčiau sukti galvą tik dėl savęs. Tad geriau, jog ryšulėlis nuo gandrų palauktų.
6. Arbatos pertraukėlė. Darbo dienos pabaiga visuomet būna sunkiausia. Tam, kad neprarastų ūpo, britai turi "penktos valandos"  (anglų kalba "five-o'clock") arbatos pertraukėlę. Tuo metu skelbiamas visuotinis poilsis – darbuotojai geria arbatą. Nė vienas vadovas nedrįstų to uždrausti.
7. Laiškai Kalėdų seneliui. Juos rašėme vaikystėje, po to užaugome ir atsisakėme galimybės taip pasvajoti. O štai kas šeštas suaugęs britas vis dar siunčia dovanų prašymus Seniui Šalčiui! Gyvenimas Britanijoje leidžia pabūti vaiku, netgi tada, kai jau turi savo šeimą. Kokio amžiaus bebūtumėte, čia galite patikėti pasakomis.
Apps to find friends and meet new people in UK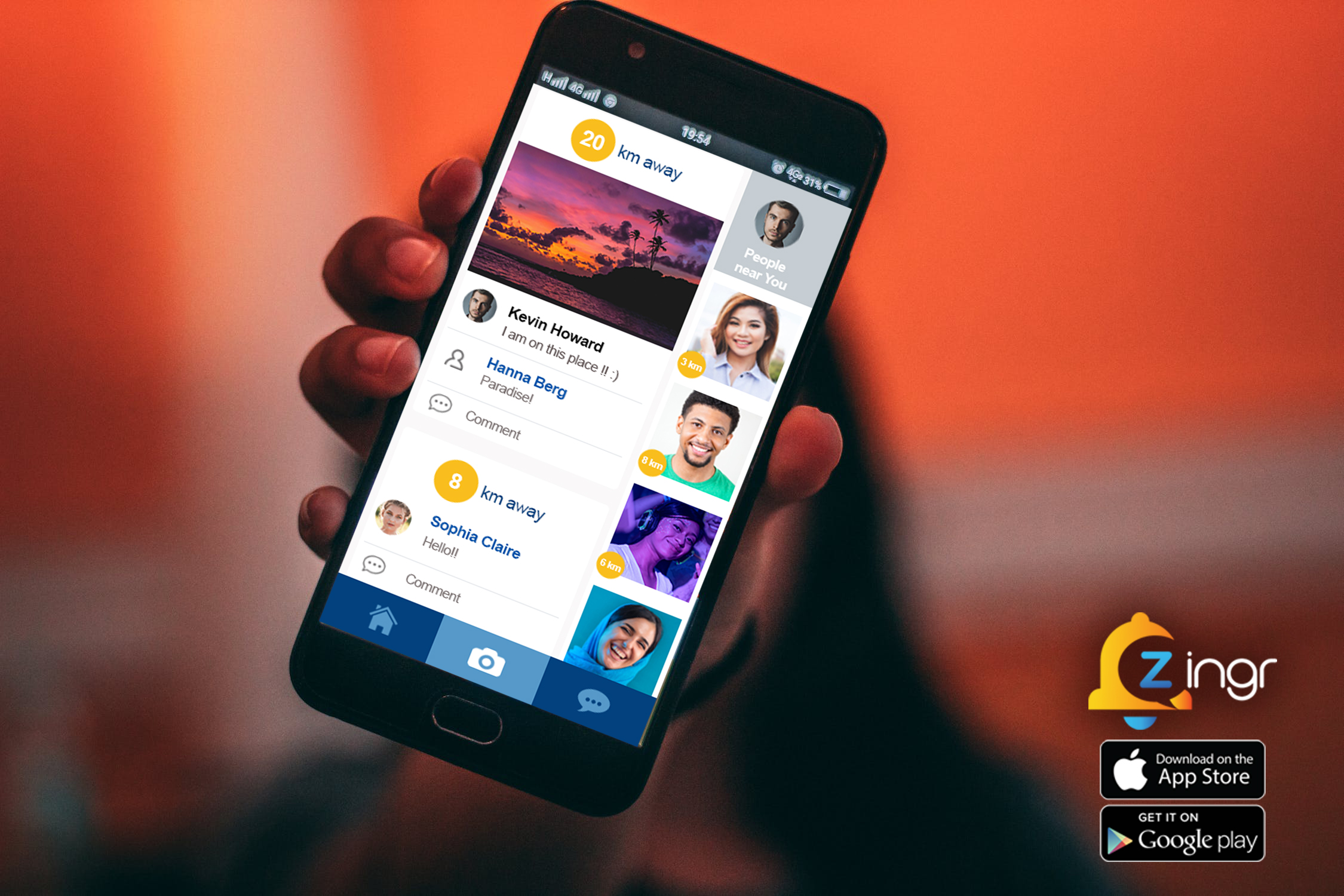 The there alot of smartphone users nowadays in UK and it still grows. More than 96 % of people from 16 – 34, and also 55% of people by 55-64 use smartphones. It was countent that more than 54 millions of people from United Kingdom will use smartphones in 2022. It is not something new that thiese numbers increased apps donwloads from Apple and Google play. So nowadays alot of people use social apps to communicate and also to find friends. So this is the list pf apps which you could use to find friends and meet new people in UK.
Apps to find friends and meet new people in UK
Social app Zingr is great app to meet new people. This social app discover people in UK and allows to communicate with them. You can share videos, stories, photos, selfies..anything with people around you. This app was built on same software as Facebook, Instagram…works quickly, looks great and it is translated in 45 languages. If you want to find friends in UK, meet new friends this app is best option.
Facebook is the biggest social network and a lot people from UK loves to use this social network. This app will help you to communicate to you real friends, who you met in real life. You can join the groups of UK people, invite new friends and share interesting content with them.
Instagram is anohte project by Facebook, this app you should use to follow people you like, brands. Most of media content is short videos, photos. Its not the best place to make new friends in UK, but it is great to communicate with people from United Kingdom who loves same brands which are popular in UK.
The minimum wage will raise by more than 6% in UK
The minimum wage will rise by more than 6% in this year taking it to 8.74 pounds an hour. 
The minimum wage will rise by more than 6% in this year taking it to 8.74 pounds an hour. The United Kingdom Government has since April next year minimum wage for people over 25. employees are promised to raise from £ 8.21 to £ 8.74 per hour. The salary increase will affect more than 3 million employees.
For other age groups, the minimum wage will also increase:
21-24 the minimum wage will increase by 6.5 percent. (up to £ 8.20 per hour).
18-20 the minimum wage will increase by 4.9 percent. (up to £ 6.45 an hour).
Under 18s the minimum wage will increase by 4.6 percent. (up to £ 4.55 an hour).
Apprentices will pay a minimum wage of 6.4%. (up to 4.15 lbs / hour)
National Living Wage
The National Living Wage is an obligatory minimum wage payable to workers in the United Kingdom aged 25 and over which came into effect on 1 April 2016. As of April 2019 it is £8.21 per hour for those aged 25 and over, £7.70 for those aged 21–24, £6.15 for ages 18-20. Minimum wage for 16-17 is currently £4.35. [1] It was implemented at a significantly higher rate than the preceding national minimum wage rate, and was expected (in 2015) to rise to at least £9 per hour by 2020.[2] The consultation document issued by the Low Pay Commission in 2019 indicated that this target would not be met, instead proposing a figure of £8.67 per hour for the over 25 rate
Menthol cigarettes to be banned in UK
Experts say that mint and other flavors make smoking more attractive to novice smokers, this is the reason why all mint cigarettes will be banned in Britain
Experts say that mint and other flavors make smoking more attractive to novice smokers, this is the reason why all mint cigarettes will be banned in Britain.  Prohibition will apply to mint cigarettes, tobacco and 'thin' cigarettes. This year under a new law coming into force in May.
Tobacco smoking in the United Kingdom
Tobacco smoking in the United Kingdom is prevalent among a sizeable, but continuously reducing minority of the population. Smoking is legally permitted, with certain conditions upon location arising from the bans enacted separately in England, Wales, Scotland and Northern Ireland. It has been argued that smoking puts considerable strain upon the NHS due to the health problems which can be directly linked with smoking. Successive UK Governments have endeavoured to reduce the prevalence of smoking. As part of this commitment, the NHS currently offers free help to smokers who want to quit.