MOST FAMOUS BRITISH ACTORS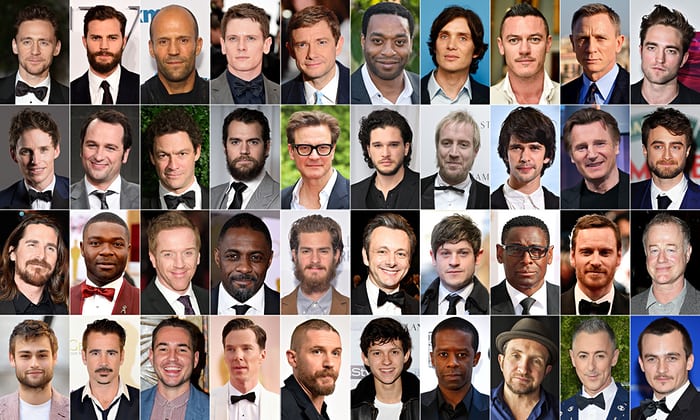 Most of people thinks that in Holywood good actors is just people who born in United States. I am gona give you a list of people who born in United Kingdom. So lets check most famous british actors:  IMDB
Ewan Gordon McGregor was born on March 31, 1971 in Perth, Perthshire, Scotland, to Carol Diane (Lawson) and James Charles McGregor, both teachers. His uncle is actor Denis Lawson.
Ask Kate Winslet what she likes about any of her characters, and the word "ballsy" is bound to pop up at least once. The British actress has made a point of eschewing straightforward pretty-girl parts in favor of more devilish damsels;
Orlando Jonathan Blanchard Bloom was born in Canterbury, Kent, England on January 13, 1977. His mother, Sonia Constance Josephine (Copeland), was born in Kolkata, India, to an English family then-resident there
One of the British theatre's most famous faces, Daniel Craig, who waited tables as a struggling teenage actor with the National Youth Theatre, went on to star as James Bond in Casino Royale(2006), Quantum of Solace (2008), Skyfall (2012) and Spectre(2015).
Hugh Grant, one of Britain's best known faces, has been equally entertaining on-screen as well as in real life, and has had enough sense of humor to survive a media frenzy.
Michael Caine was born Maurice Joseph Micklewhite in London, to Ellen Frances Marie (Burchell), a charlady, and Maurice Joseph Micklewhite, a fish-market porter.
Anthony Hopkins was born on December 31, 1937, in Margam, Wales, to Muriel Anne (Yeats) and Richard Arthur Hopkins, a baker. His parents were both of half Welsh and half English descent.
Ben Kingsley was born Krishna Bhanji on December 31, 1943 in Scarborough, Yorkshire, England. His father, Rahimtulla Harji Bhanji, was a Kenyan-born medical doctor, of Gujarati Indian descent, and his mother, Anna Lyna Mary (Goodman), was an English actress.
Christian Charles Philip Bale was born in Pembrokeshire, Wales, UK on January 30, 1974, to English parents Jennifer "Jenny" (James) and David Charles Howard Bale. His mother was a circus performer and his father, who was born in South Africa, was a commercial pilot. The family lived in different …
It`s just couple of them. The list is to long 🙂
People nearby. Zingr social app discover people around you
Most of us knows Facebook as a social network. But do you know that there are more social networks also popular around all world?
Facebook is nr #1 social network in the world, more than 2,230,000,000people from all the world use it or had used. This social app is for friends, family.
Twitter — i guess most of us knows that this social network is loved by USA president Donalt Trump. He loves to tweet and share his thoughts by this social network. You can share your thoughts and short messages with your followers on this social network.
Zingr — this social network is new. If we deal on that Facebook is for friends and family, Twitter — for your
followers and fans, so what about your country, city..or people who is near you? Yeah, and here comes Zingr.This social app is for people to share short messages or photos to people around you. Just post a message or photo and all people around you will see it. Simple, isn`t?
What can you share on people nearby app ZINGR?
Anything! 🙂 But no sex photos, no spam, no illegal content or you will be BANNED 🙁
How does it work?
Tweet any message, and it will be approved by admin. That message will see thousands of people near you. If you
travel for example from LONDON to PARIS.. Your message in London still be, so anything you post in Paris.. All people from Paris will see 🙂
Share video, photo files, selfies with people around you. Chat with stranger people safe, meet and find new friends. Zingr social app – your city in your POCKET 🙂 !
Moon Festival July 19 @ 9:00 am – July 26 @ 5:00 pm
Moon Festival is a week long exploration of the Moon's significance in culture taking place all around the borough of Greenwich (London) between July 19 – 26 2019.

Moon Festival is a week long exploration of the Moon's significance in culture taking place all around the borough of Greenwich (London) between July 19 – 26 2019. The festival showcases an eclectic programme including a series on women and the moon headlined by The Handmaid's Tale author Margaret Atwood; a lecture by The Sky at Night presenter and self-confessed lunatic Dr Maggie Aderin-Pocock, a transcendental club night beneath the hull of the Cutty Sark, late night Yoga + DJs and much more besides. July 19-26 | Several venues in the borough of Greenwich | Full programme, tickets and info https://moonfestival.co.uk/events/
Details
Start:

July 19 @ 9:00 am

End:

July 26 @ 5:00 pm

Event Category:

Event Tags:
Zingr social app meet people nearby
Zingr social app meet people nearby design.
People on thiese can't imagine life without social networks. Facebook, twitter, Instagram and of course city portal – ZINGR.  All of thiese social apps has his own purpose.
Facebook
Social network to share videos, files, your thoughts with your family or friends
Twitter
Social app to tweet to your fans short message.
Instagram
Social app to share photos with your followers.
Zingr
Zingr social app to share photos, videos and short messages with people near you. This app is like 'Your city in your pocket' ! 🙂  all people who use this app can see nearby people , chat with them, share their thoughts.
Lets check beautiful design of ZINGR app 🙂
Zingr social app LOGO