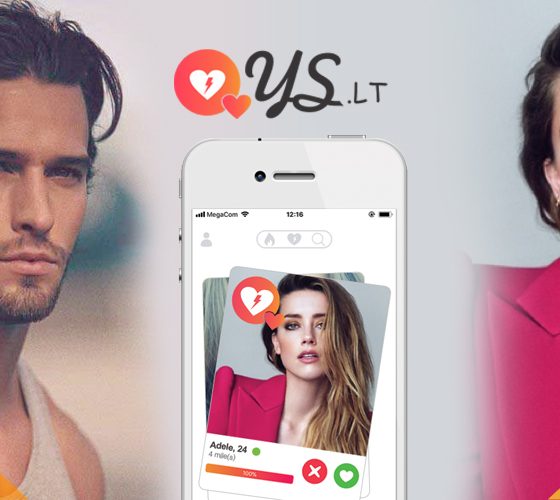 Ys.lt populiariausia pažinčių programėlė Lietuvoje viršijo 100 tūkstančių parsisiuntimų
Greičiausiai populiarėjanti Lietuvoje startavusi Ys.lt pažinčių programėlė jau gali pasigirti virš 100 tūkst. parsisiuntimų
Išmanieji telefonai jau tapo neatsiejama mūsų gyvenimo dalis. Kartu su išmaniųjų telefonų naudotujų skaičiumi auga ir jiems pritaikytų  programėlių skaičius. Dažniausiai lietuviai teigia turintys apie 20 programėlių savo telefone. Tačiau kasdien jų naudoja mažiau nei pusę. Dėl pagreitėjusio gyvenimo tempo dalį savo gyvenimo žmonės perkelia į socialinius tinklus. Neišskirtis ir naujos pažintys. Nerasdami laiko megsti naujas pažintis klubuose, kavinėse.. ar tiesiog ieškodami kažko naujo vis daugiau žmonių taupydami savo laiką pasirenka pažinčių programėles.
Populiariausios programėlės Lietuvoje
Lietuvoje populiariausios programėlės: naujienų. Čia pirmauja gerai visiems žinomi 'Delfi, 15min, lrytas" portalai. Šių programėlių atsisiuntusių skaičius jau perkopė 100-tus tūkstančių skaičių ( android). Šį skaičių yra pasiekusios tik jau žinomi projektai. Skelbimų portalas 'skelbiu', automobilių skelbimų portalai 'autogidas', 'autoplius'.  Deja moterims skirtų programėlių parsisiuntimų skaičius nėra toks didelis, daugumos jų pasiekė tik 10 – 20 tūkstančių. Kitokia padėtis tarp pažinčių programėlių. Čia parsisiuntimų skaičiai siekia virš 50 tūkst. Greičiausiai populiarėjanti Lietuvoje startavusi Ys.lt pažinčių programėlė jau gali pasigirti virš 100 tūkst. parsisiuntimų ( android) , ir šis skaičius vis auga.
Ši programėlė išversta jau į 24 kalbas yra šiuo metu greičiausiai auganti programėlė, kuri startavo Lietuvoje. Ši programėlė šiuo metu yra skirta tik android naudotojams, tačiau artimiausiu planu pasirodyti turėtų ir IOS. Ši greitai populiarėjanti programėlė leidžia jos nariams ne tik 'math' inti vieni kitus, tačiau atlikus paiešką matyti visus narius kurie yra netoliese, bei bendrauti su jais be jokių limitų.
Norėdami parisiųsti programėlę, ieškokite jos 'Google store' parduotuvėje.
ZINGR social app is best alternative to dating apps in UK
There are alot of great dating apps. Tinder, Bumble, Badoo, Match and alot of more which you can use to date people. But if you had used them all and would like something new – ZINGR app is one of best alternative. The social app ZINGR discover nearby people and you can share content with them. You content can go viral in your and later in all over the world. Use #tags in social app to reach more people. So if you are intereting in meeting new people, you should use #dating #meet #ukmeet #meetinUK #date social keywords. Thiese dating keywords can help you to find new friends, people near you who is interesting to date.
What you should share on social app ZINGR if you interesting to date?
If you are interesting for dating you should share more positive content. It can be your #selfie, photos there you look happy and ready to meet new friends. You also should move more to reach the biggest audience in your city. More you move, more people you reach. Share some dating keywords in your city and some of people will be interesting to chat and maybe meet you.
Meeting students in UK. How to find new friends in United Kingdom after lockdown?
There are many ways how to meet people in UK. You can meet people at the museum, library, at the clubs, restaurants. But how to find new friends after lockdown? One of the best way how to communicate with people online are social apps. The meeting app ZINGR is one of the best way to meet people, chat and share some content. This social app discover nearby people and you can communicate with them.
How does the social app ZINGR help to meet students in UK?
Zingr app discover nearest people. So if you are a student or living in a dormitory you should use Zingr app to discover people around you. Use social app ZINGR at your University or College to discover students. Share some content, be friendly and some of students will be interesting to know you better. Zingr is one of the best apps to meet people, to know what happens in your city, around you. Follow what happens near you, make new friends.
EU students could face higher fees to study in UK from 2020
. UK higher education leaders fear more than doubling tuition fees will reduce student numbers in the EU to 60%.
Under the current arrangements, EU students pay up to £ 9,250 a year. UK higher education leaders fear more than doubling tuition fees will reduce student numbers in the EU to 60%. EU students make up between a dozen and 20% of UK universities. of all students. There were almost 135,000 EU students studied in UK higher education.